Prices for 2022 in Euro per day
Price for up to 11 guests. An additional charge for additional guests applies.
Booking Conditions: To confirm the booking, a deposit of 30% is required. The remaining 70% is due 6 weeks before arrival.
Payment Method: Bank transfer in Euro
Cancellation Policy: In case of cancellation, any payments made are forfeited.

Greek National Tourism Organization License:
1351K133K0204601

Absolute Beachfront Villa on Skyros
Personal Review
Many villas are advertised as beachfront villas but in my opinion only a tiny fraction of those really deserve such a title - this villa on Skyros being one of the few. The beach literally reaches the wall of the property and as you step through the garden gate, your feet are already in the sand. Right in front of the house, a small L-shaped quay for local fishing boats was actually built to protect the property from the waves in the winter. The little traditional boats only add to the beauty and view of this villa, giving the eye something to focus upon and the mind is soon tempted to evaluate which boat is the most beautiful one. A difficult task when nearly all of them have the famous white colour with various shades of blue/turquoise or green and just a touch of red somewhere. The odd boat is sometimes also anchored on the beach, but nevertheless the water and beach are clean and absolutely suitable for swimming. The quay also keeps stronger waves away from the beach, making it perfectly suitable for small children even on windy days. Those who want to swim out further, just stroll down the beach a few meters and enter the sea at the end of the quay. A few meters further, you will also find cafés and the odd tavern in case you wish to change scenery.
The villa itself is dominated by the unique Skyrian Style and architecture, boasting ample outdoor space, naturally cool bedrooms and many comfortable corners to relax, dine or retreat during the mid-day heat to read a book in total serenity.
The family owned property has many stories to tell, but since it was turned into a family run business (for rental), a fresh, modern touch has entered the house. Extensive renovation and re-decoration has been made and continues to improve the amenities. For example, the 2 most charming bathrooms were upgraded to modern standards, the rest was completely redone. The decor equally resembles a mixture of traditional Skyrian Style (hand painted plates and copper pans that used be hung up on the walls for storage) and modern, more cheerful colours and fabrics to give the villa a lighter summer atmosphere.
Noteworthy is also the service. Your comfort is paramount and thus there is someone there to make sure you don't spend your time tidying up or cleaning dishes. The house is serviced daily (maid on site 8 hours) and linen & towels are changed frequently. Private chef, babysitter or other services are available on request.
The beach in front of the door, cafés and tavernas on the beach in walking distance, bars and small clubs for the night… this beachfront villa on Skyros is ideal for large families or groups of friends who wish to enjoy a great time together in a relaxed atmosphere.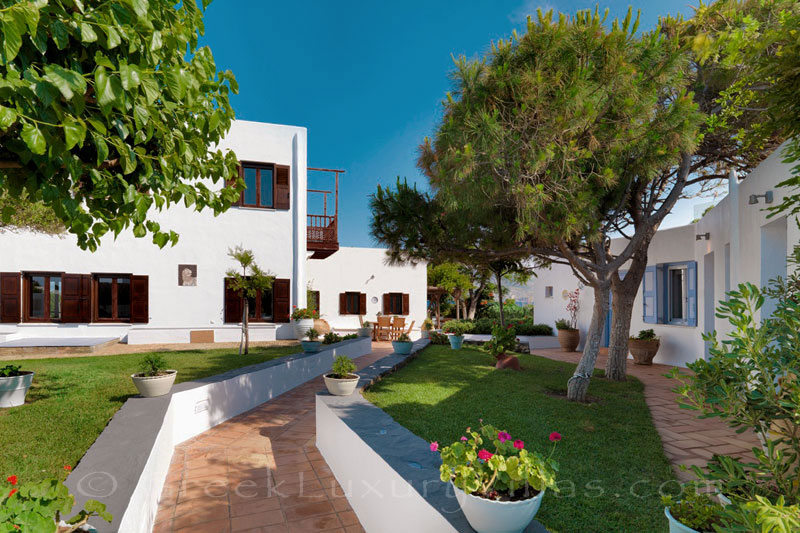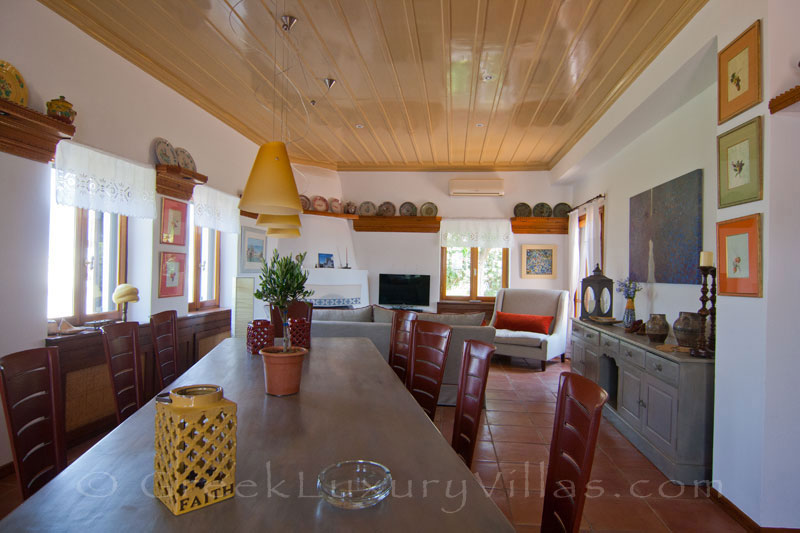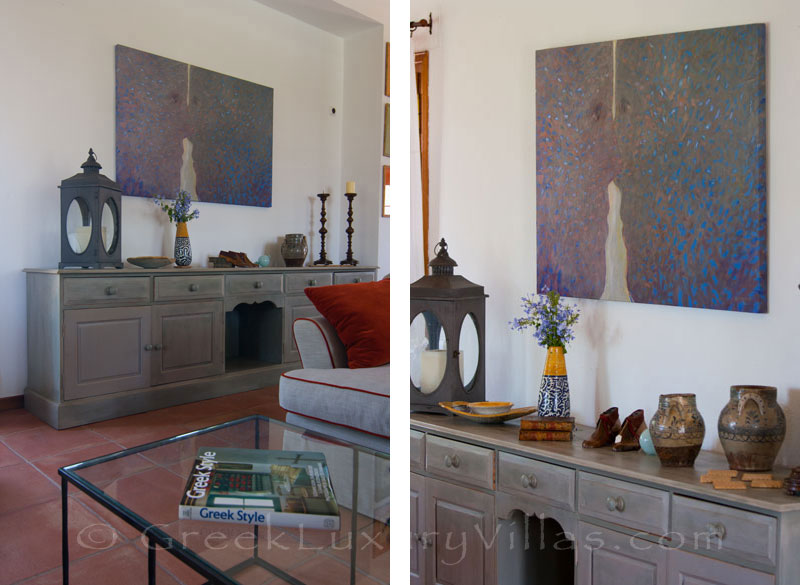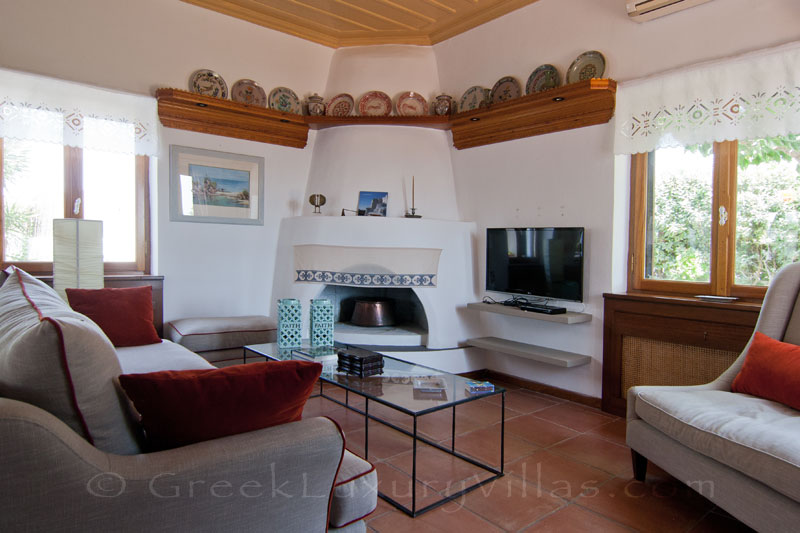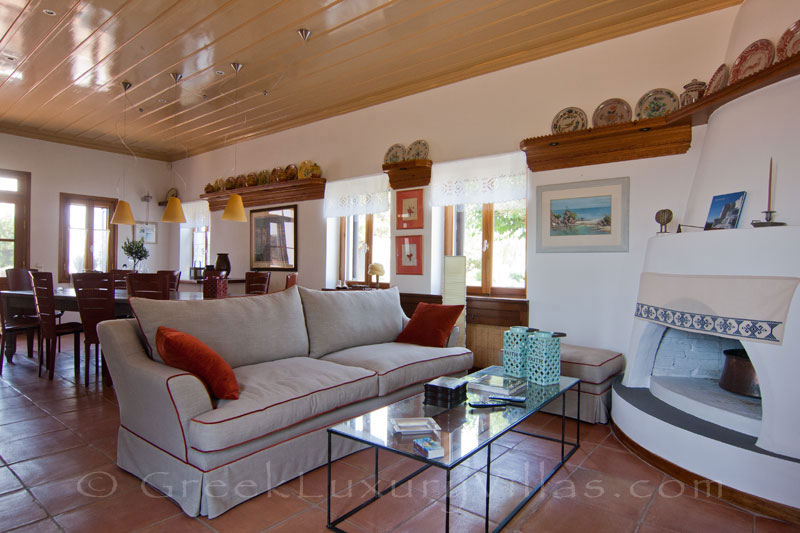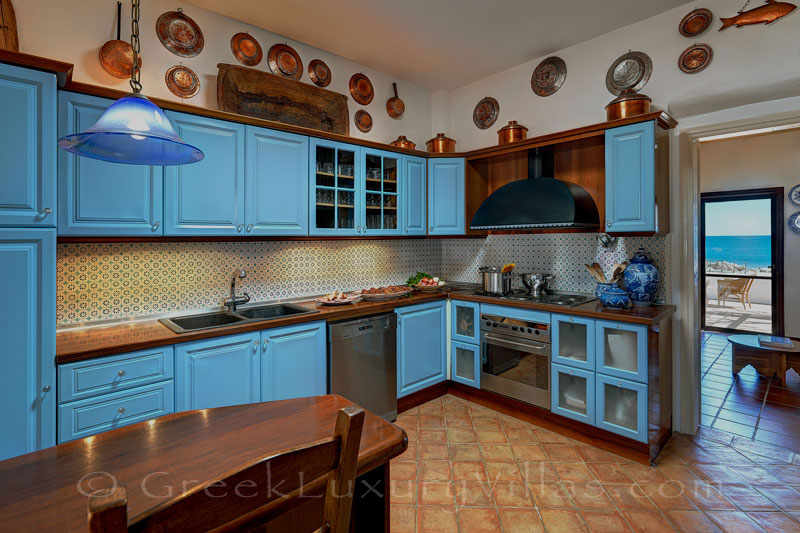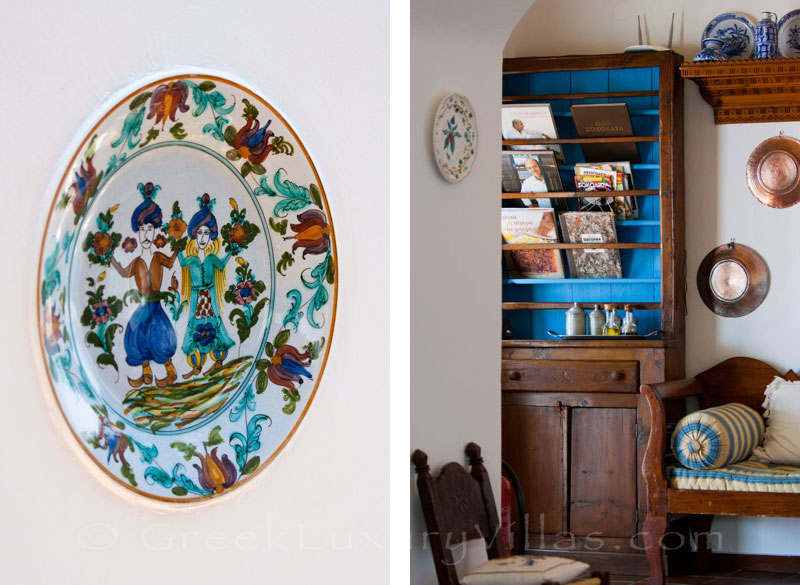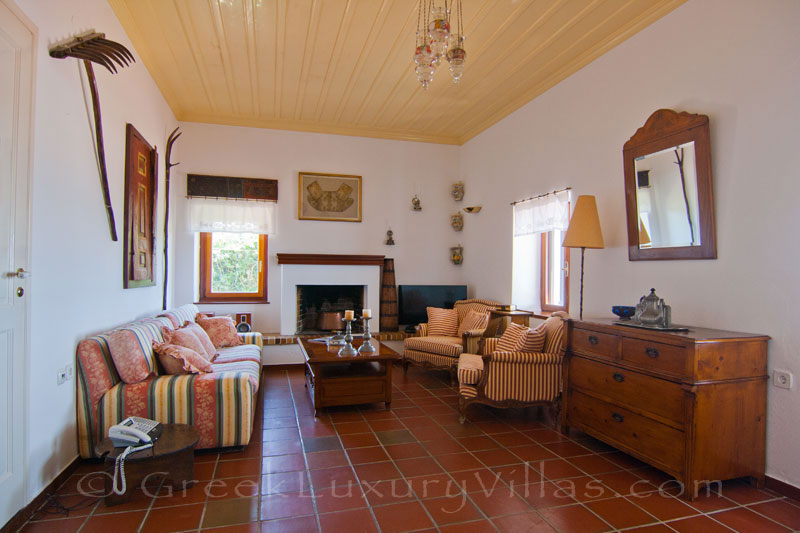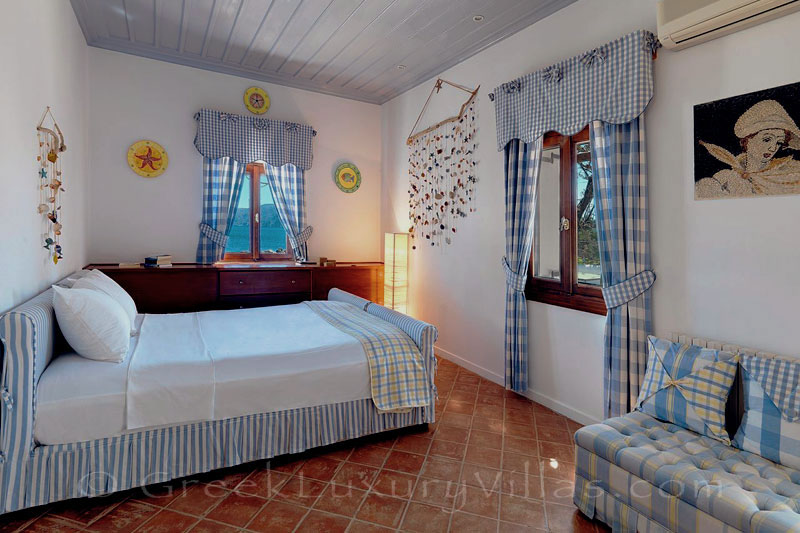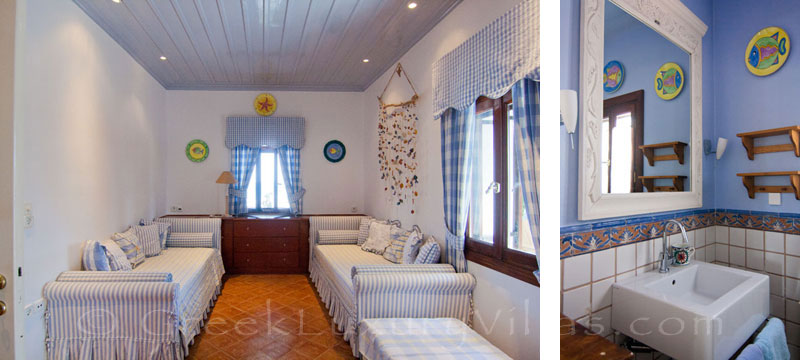 The Master - Bedroom Suite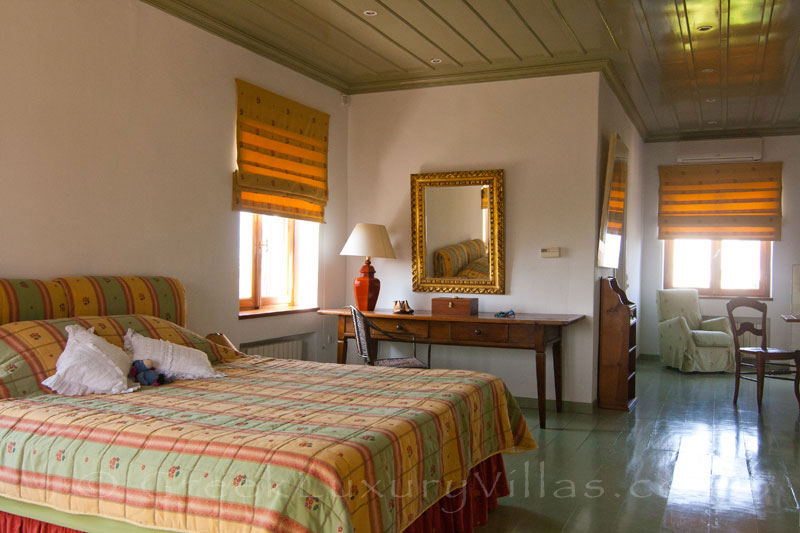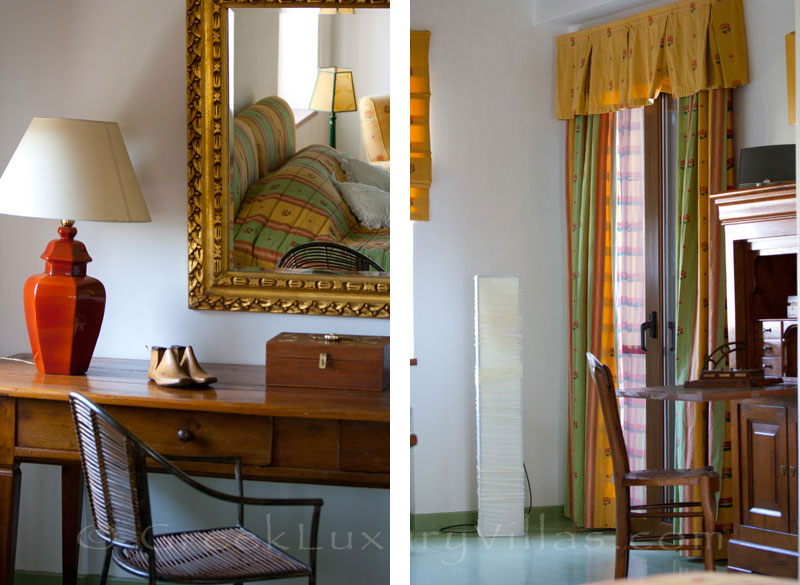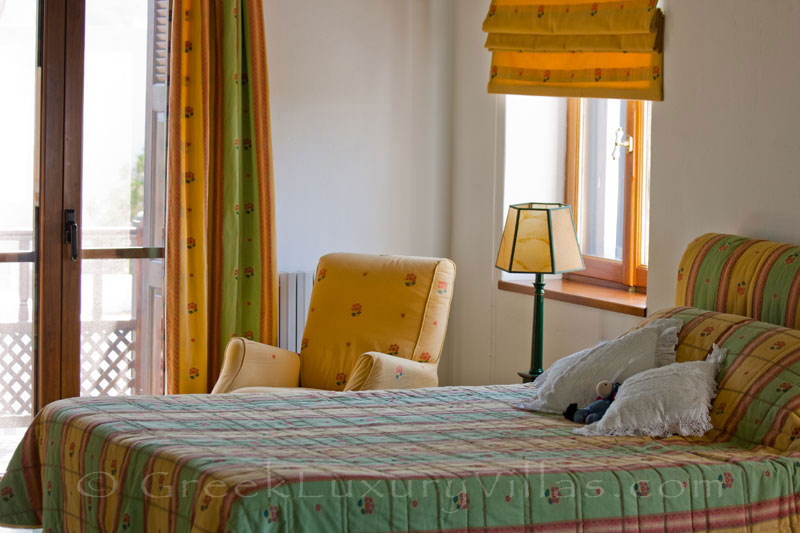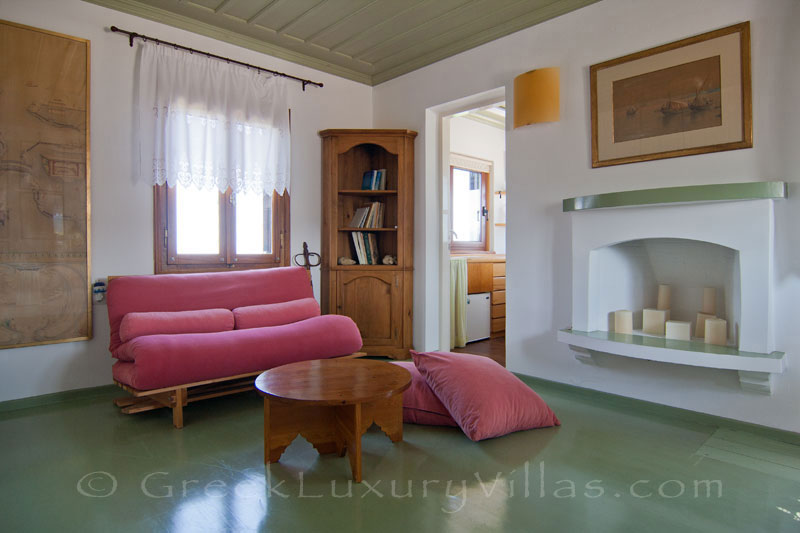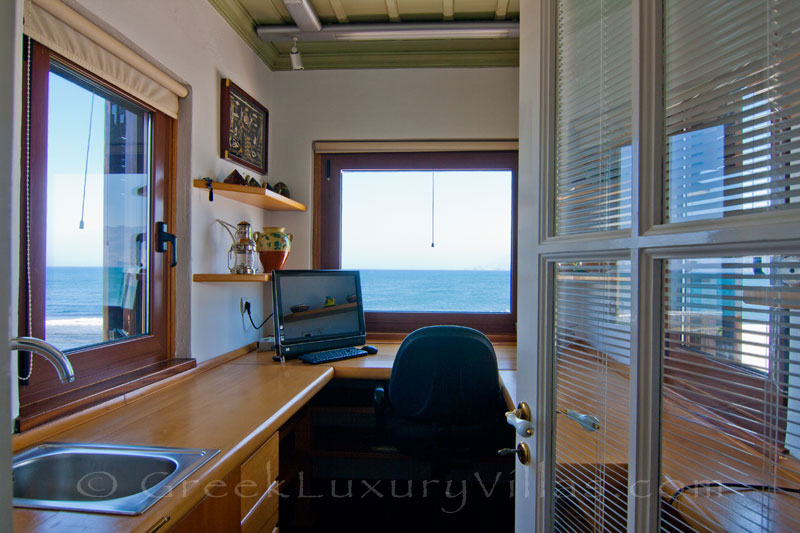 The Garden Studios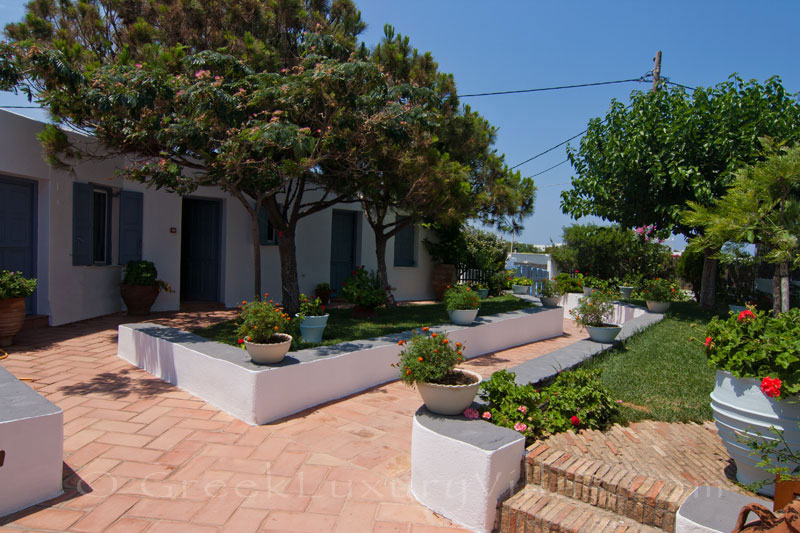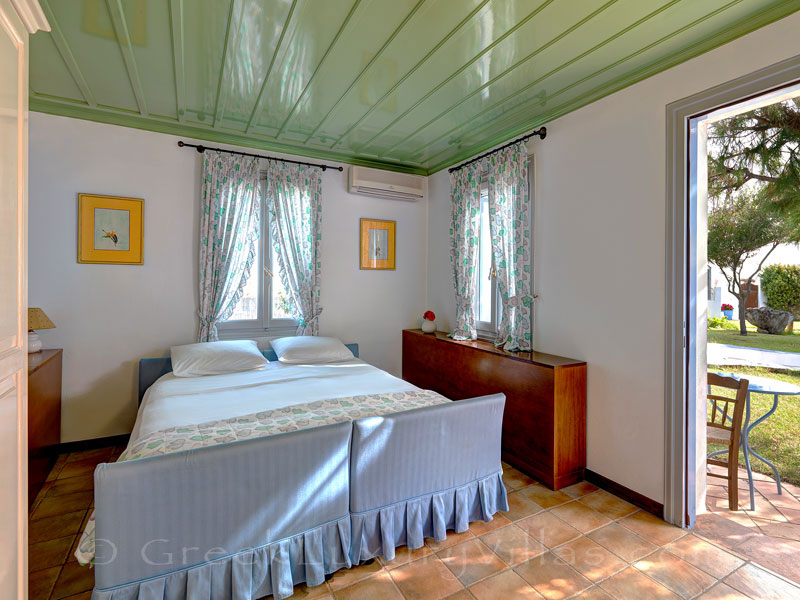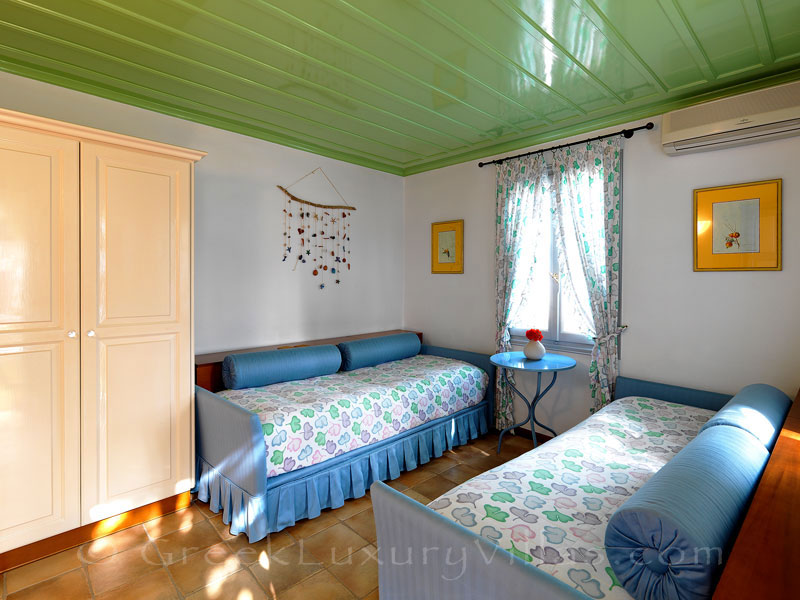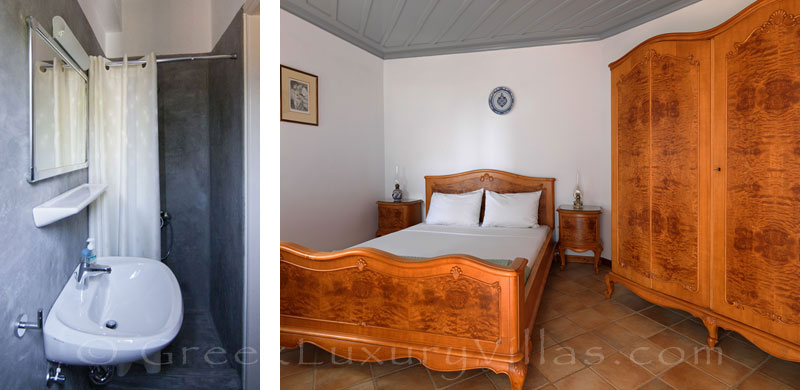 Panoramic View
Villa Features
BBQ Area, Outdoor Dining Area, Roof Terrasse
Facilities
Beach Towels, Parking on Property, Hair Dryer
Kitchen Facilities
Gas Stove, Oven, Microwave, Nespresso Machine, Espresso Machine, Filter Coffee Machine, Frappe Machine, Briki (Greek Coffee Maker), Kettle, Toaster, Dishwasher, Food Processor (Multi), Blender, Juice Maker, Charcoal BBQ, Pizza Oven, Sandwich Maker
Multimedia Facilities
TV, Sat-/Cable TV, WiFi-Internet
AirCon/Heating
AirCon in all rooms, Central Heating, Open Fireplace, Closed Fireplace
Child Friendly
Baby Bed, Bunk Bed, High Chair, Shutters / Black-Out Curtains, Enclosed Property (wall, fence), Large Outdoor Space
Pet Friendly
Pets welcome (with prior notice)
Location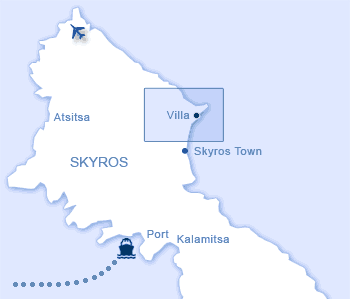 Included Services
Maid Service 2 x weekly, Change of Sheets 2 x weekly, Pool / Garden attendant, Meet & Assist at the Airport/Port
Services at Extra Charge
Daily Maid Service, Change of Sheets daily, Private Chef, Grocery Service / Delivery, Breakfast Service (prepared), Port/Airport Transfer, Guided Tours, Babysitter / Childcare, Complimentary Welcome Night, Welcome Dinner, Laundry Service, Yacht/Boat Charter, Weddings & Celebrations, Personal Fitness Trainer, Yoga Coach, Free diving/snorkeling with private U/W guide, RIB included, Spearfishing (blue water/reefs) with private U/W guide, RIB included, Free diving filming/photography with private U/W guide, RIB included, Rental equipment for underwater filming and photography, Scuba diving with private U/W guide/PADI, Villa Pre-Stocking
Layout
The main house consists of a spacious open plan dining/living room, very well equipped kitchen, separate living-room and two bedrooms with en-suite bathrooms. One of the bedrooms has two single beds that can be put together into a double, the other room has one single bed only. The bigger room has a beautiful bathroom with shower, sink WC and bidet, the single room's bathroom has shower, sink and WC.
Upstairs is the spacious master suite. The generously sized bedroom has a beautiful en-suite bathroom offering all features you can have, a small living area with a futon sofa that unfolds into a small double bed (in case you want your children to sleep near you) and an office with 180° panoramic view through 3 windows overlooking the sea. The living-room and bedroom have access to a large roof-top terrace with outdoor sitting area and a fantastic, uninterrupted view.
A separate building in the garden accommodates 3 studios of which 2 have two single beds that can be combined into a double and the 3rd studio has one single bed. It is the most traditional and smallest room but it has it's charm. Since there is no traditional base for en-suite bathrooms in such studios, there modern style (colored cement and modern ceramics) intentionally distances itself from the Skyrian Style.
The villa sleeps a total of 10 guests in 6 bedrooms. Across the street are two more holiday houses sleeping another 6 guests (4 + 2) in 3 bedrooms (2 + 1). Both houses have their own kitchen, lounge and of course bathroom. For more details, contact me.