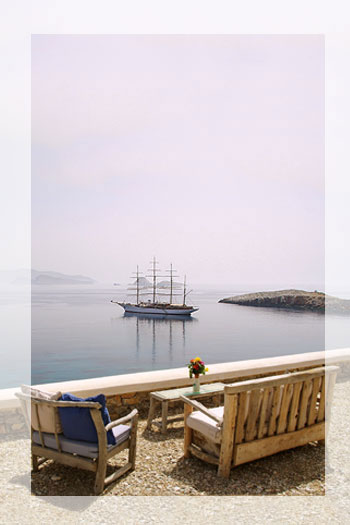 Greek National Tourism Organization License:
1167K91000908301 / 1167K91000908201

10 Beachfront Villas on Folegandros
Everything in walking distance
Built respecting peoples needs, the environment and the history of Folegandros, these villas offer hospitality, serenity and a fantastic sea view. Keeping in mind the traditional architecture using stones the land itself provides, chestnut wood and handmade surfaces, these villas blend naturally into the Cycladic landscape. In respect to our precious planet, the villas use solar power for hot water and a geothermal heating/cooling system in the floor (downstairs). Having said that, the microclimate of the former vineyard itself contributes to a pleasant atmosphere during your stay, whilst air-conditioning is available in all bedrooms for those who can not live without.
Each villa has been designed differently but they all have one thing in common: Sea view from every corner of the house - both in- and outdoors.
300 sq.m. of exclusive private land, a garden with pergolas and seats in the shade and windless corners are further common features to grant a pleasant stay.
The view from your bedroom window boasts Greece's famous crystal clear waters with Antiparos, Paros, Naxos, Ios, Sikinos and Santorini in the distance. You will wake up to the subtle sound of the waves in the morning and fall asleep to the same tune at night.
At the Bar - Restaurant area you can relax whilst drinking your coffee or enjoy the delicious a la carte meals accompanied by the great sea-view or the romantic moon rise.
The villas are located some 50 meters from the beach on the seaside road to Livadi, just 400 meters from the port of Karavostasis where you will find seaside cafés, restaurants, car/bike rentals, ferry tickets, shops and supermarkets. Chora (main village) is 4 km and Ano Meria is 9 km away.
Guests staying in these wonderful villas have access to a large swimming pool with parking at the entrance of the property.
Kindly note that smoking is prohibited inside the villas.
Next to the pool is "the restaurant". A large open space with outdoor tables and a bar / kitchen, all with the magnificent sea view. The chef prepares tasty meals right here in front of you, from breakfast buffet, lunches, snacks and snacks to exclusive dinners. On request and prior arrangement also more demanding or time-consuming dishes. The ingredients come from our own garden or were selected according to strict criteria and fresh fish (subject to availability) comes from the waters around Folegandros.
There are some very good Folegandros tavernas to try and the ambience in the old town of Hora is incomparable, but on days when you just want to relax on site, dinner at the in-house restaurant is pure luxury. The breakfast is also recommended. Not only because of the preparation, but also because the atmosphere is so relaxed and you have plenty of space, that is privacy.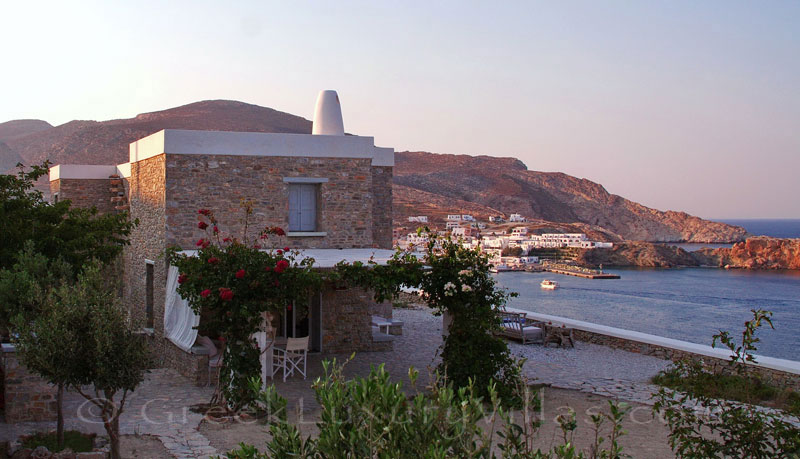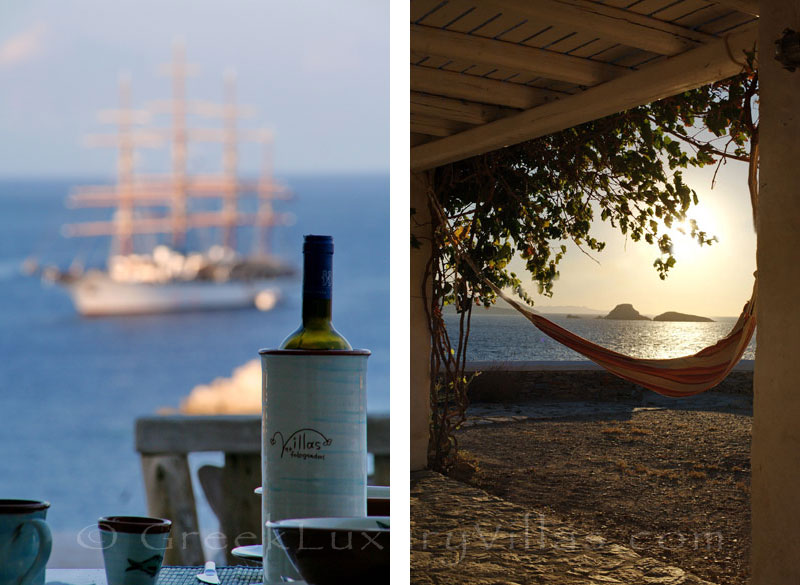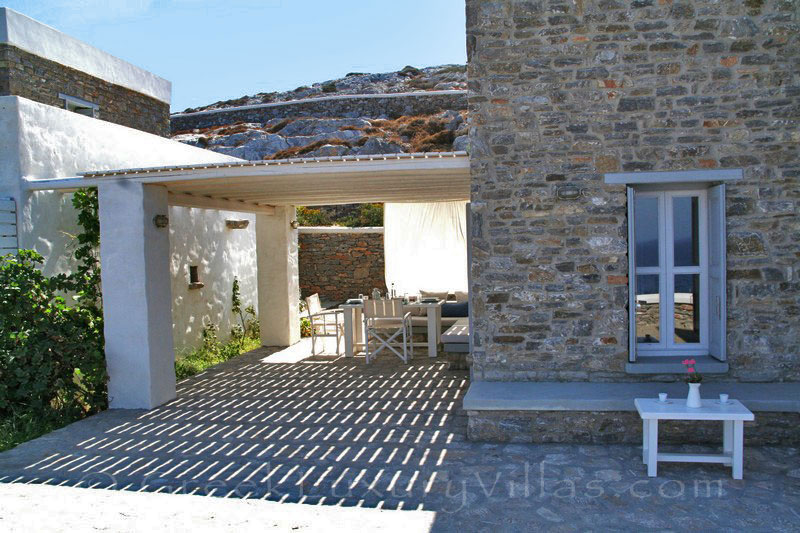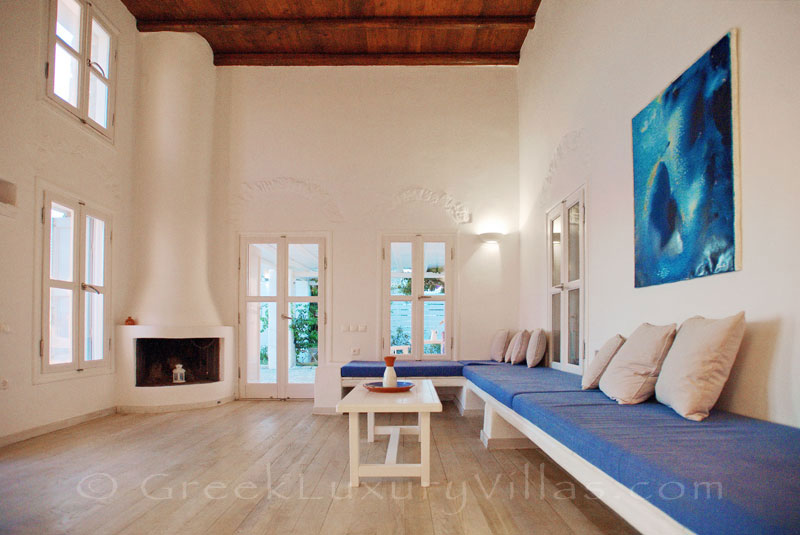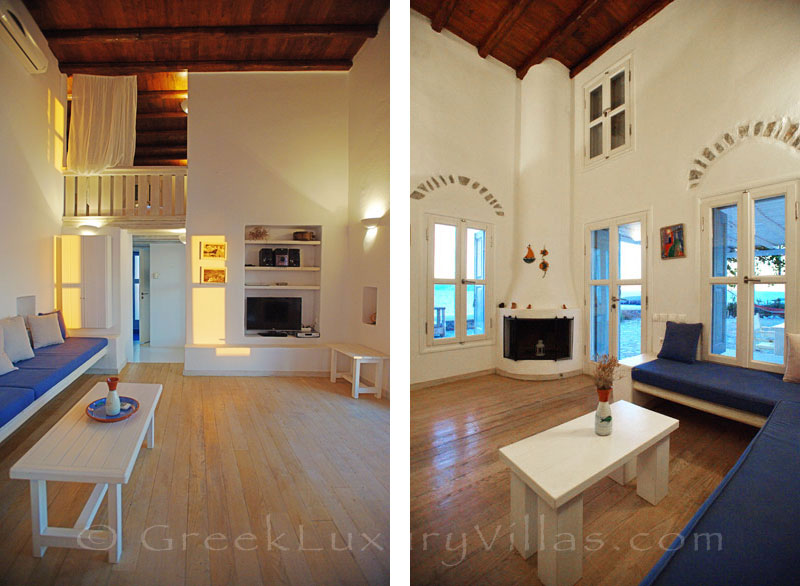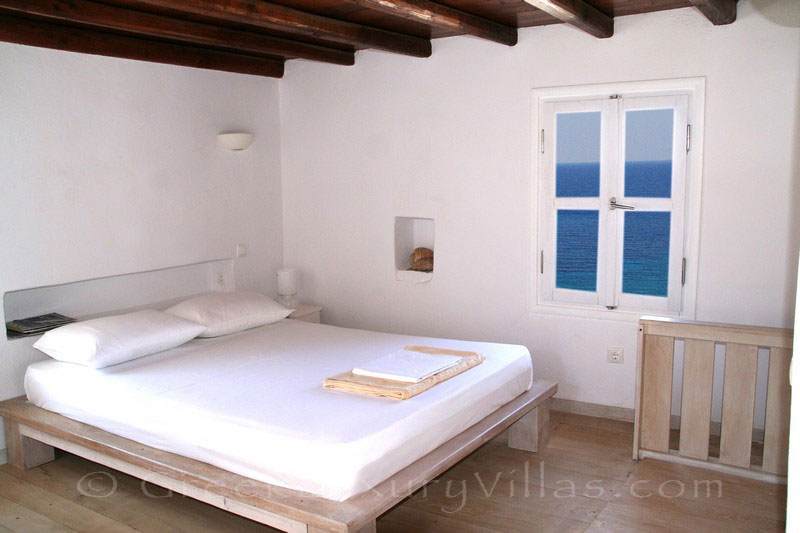 Sunrise at the villa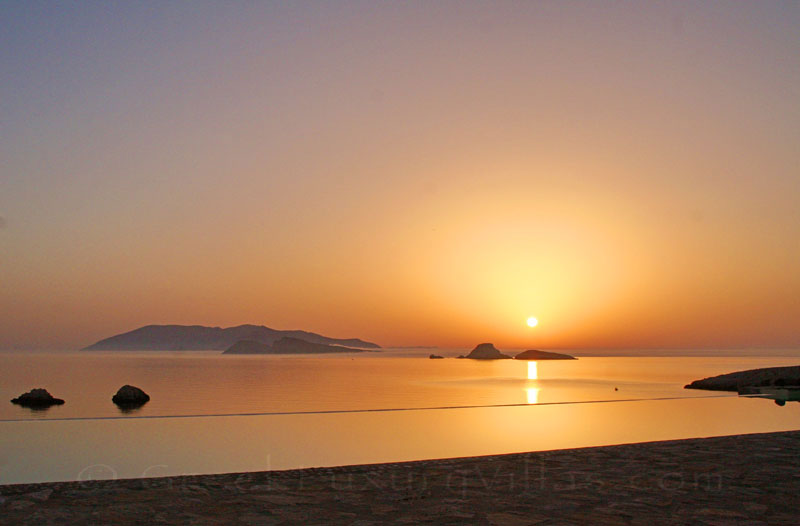 Pool bar - A la carte restaurant of the villa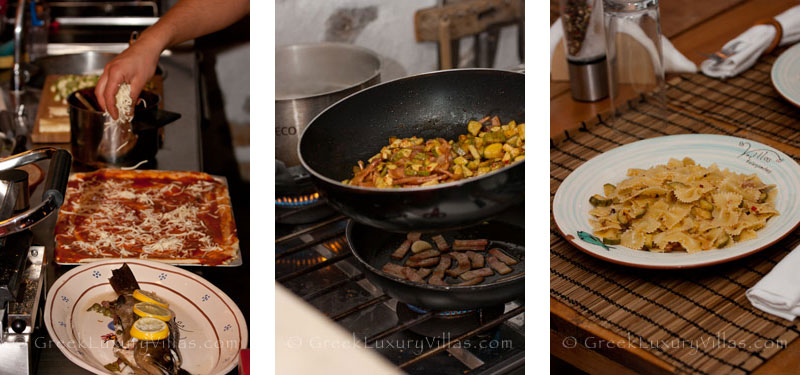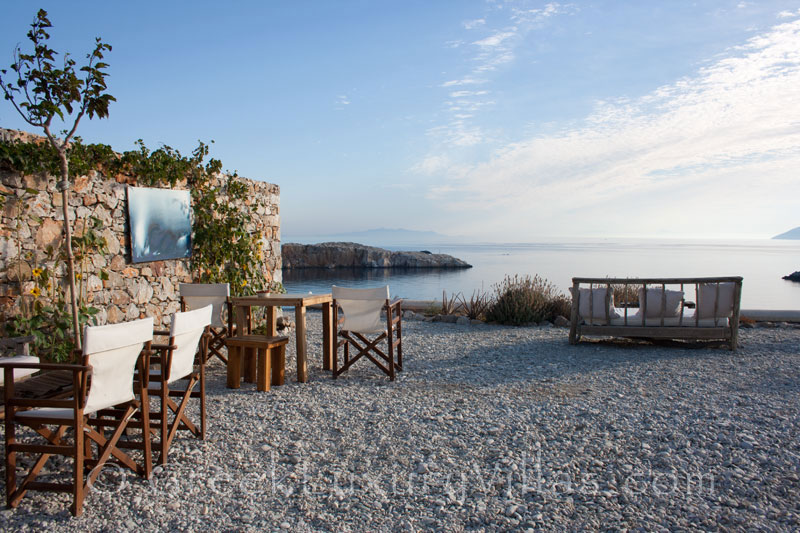 Beach below the villa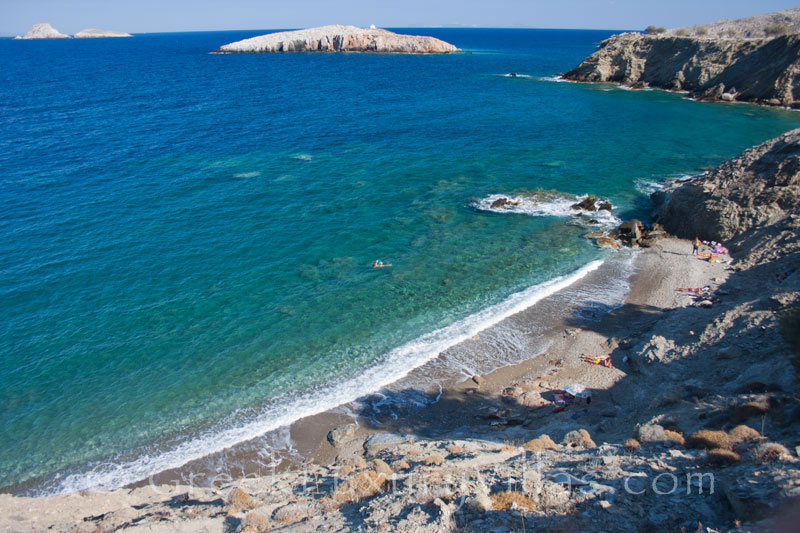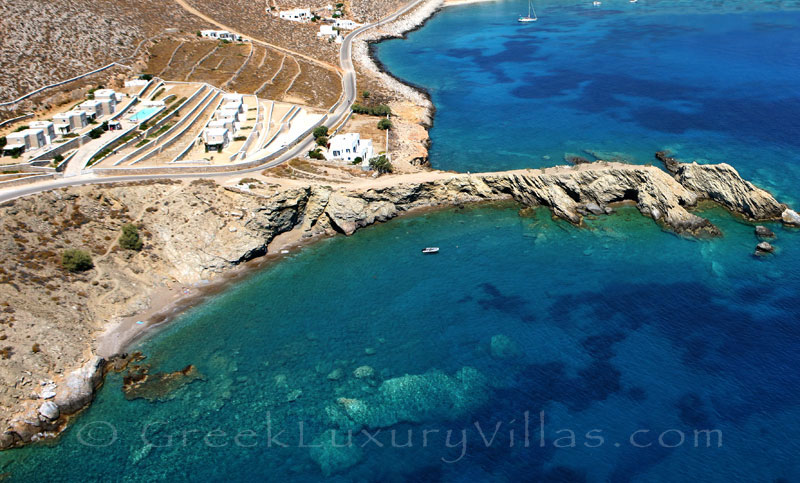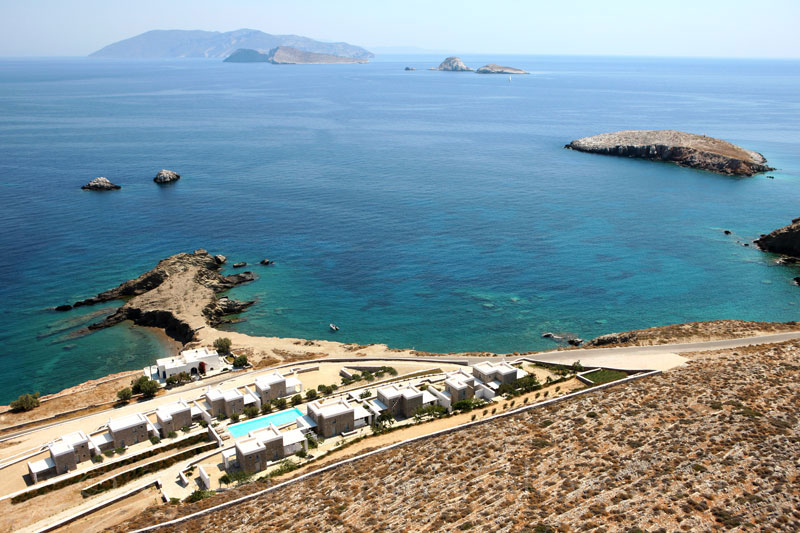 Villa Features
Shared Pool, Outdoor Dining Area, Telescope
Facilities
Sun Beds, Beach Towels, Parking on Property, Parking outside Property, Boat trailer parking, Hair Dryer
Kitchen Facilities
Electric Stove, Oven, Espresso Machine, Filter Coffee Machine, Frappe Machine, Briki (Greek Coffee Maker), Toaster, Food Processor (Multi), Juice Maker
Multimedia Facilities
TV, Sat-/Cable TV, DVD, HiFi-Stereo, Docking Station, CD-Player, WiFi-Internet
AirCon/Heating
AirCon in all bedrooms, Geothermal Heating, Floor Heating, Open Fireplace
Child Friendly
Baby Bed, High Chair, Shutters / Black-Out Curtains, Children's DVDs, No dangerous furniture or deco, Food Processor (Moulinette), Large Outdoor Space
Pet Friendly
Pets welcome (with prior notice)
Included Services
Daily Maid Service, Change of Sheets 3 x weekly, Concierge Service, Pool / Garden attendant, Port/Airport Transfer, Meet & Assist at the Airport/Port, Vegetable Garden, 24/7 Reception/Standby
Services at Extra Charge
Private Chef, Grocery Service / Delivery, Breakfast Service (prepared), Guided Tours, Welcome Dinner, Laundry Service, Yacht/Boat Charter, Massage & Beauty Treatments, Weddings & Celebrations, Free diving/snorkeling with private U/W guide, RIB included, Spearfishing (blue water/reefs) with private U/W guide, RIB included, Free diving filming/photography with private U/W guide, RIB included, Rental equipment for underwater filming and photography, Scuba diving with private U/W guide/PADI
Prices for 2023 in Euro per day
Villas
Standard Capacity
1 May - 10 June &
12 Sept. - 30 Sept.
11 June - 8 July &
1 Sept. - 11 Sept.
9 July - 31 Aug.
Alisideri
5 adults + 1 teen
200 €
300 €
400 €
Kochlidia
4 adults + 1 teen
170 €
220 €
320 €
Aspropounda
4 adults
160 €
220 €
320 €
Vorina
4 adults
160 €
220 €
320 €
Katergo
4 adults
150 €
200 €
280 €
Livadi
4 adults
150 €
200 €
280 €
Ambeli
4 adults
150 €
200 €
280 €
Vitsentzou
3 adults + 1 teen
150 €
200 €
280 €
Poundaki
3 adults + 1 teen
150 €
200 €
280 €
Latinaki
3 adults
140 €
180 €
260 €
Booking Conditions: Prices per day are for standard capacity/Extra person + 30€/day.
To confirm the booking, a deposit of 30% is required. The remaining 70% is due 6 weeks before arrival.
Check in 16:00 pm - Check out 11:00 am

Wedding events and parties provided at extra service fee
A breakfast basket can be delivered to the villa at 15 €/adult and 10 €/child over 12.y.o. (opening hours 08:15 - 11:00)
Payment Method: Accepted payment method is bank transfer in Euro.
Cancellation Policy: More than 6 weeks prior to arrival date, the deposit is forfeited, 6 weeks and less, the entire rent is forfeited.