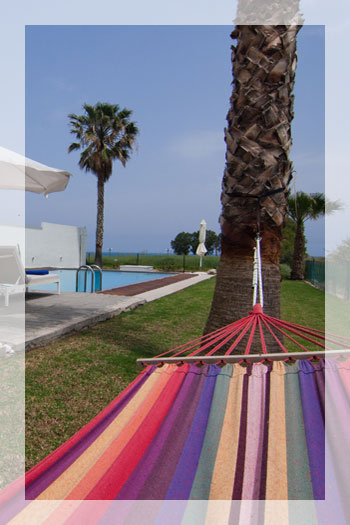 Prices for 2021 in Euro per week
April, May, June, &
September, October
2.450 €
Booking Conditions: To confirm the booking, a deposit of 30% is required. The remaining 70% is due 4 weeks before arrival.
Payment Method: Bank transfer in Euro.
Cancellation Policy: In case of cancellation, any payments made are forfeited.

Greek National Tourism Organization License:
1042K92003001001

Modern Beachfront Villa in Maleme, Crete
100 m to Maleme Beach, Minimalistic Design
Maleme Beach is famous for its fantastic oranges and they thrive here due to the mild microclimate, which we humans equally appreciate.
Maleme Beach has been popular for many decades and yet it still has a manageable number of tourists and hotels. There is a hand full of beachfront cafes and tavernas in short walking distance providing sufficient infrastructure including sun beds & umbrellas on the beach in front of this villa, yet leaving plenty of space on the beach for those who wish to enjoy a long walk on the beach or for kids to play in the sand without disturbing others.
The villa boasts simplicity. The contemporary design reduces it to its function directing our attention to the high quality facilities and the choice of colours underlines those of the surrounding. A lot of white, thus a single ray of sunlight can influence the atmosphere throughout the house.
The ground floor consists of an open plan living area including indoor dining table, kitchen and WC. The entire front facing the sea is a 3-piece "french window" that slides open to merge the living area with the outdoor table, teak deck with sun loungers and awning as well as the pool with the sea view behind it. A wall all the way down the left hand side of the property lined with cypress trees blocks curious looks from a small hotel in the neighbourhood and a hides the neighbours passion for building and decorating his property. Luckily the two properties are located in such a way that one is not disturbed by the neighbour at all. To the right, the view extends past the fence and over a field onto the beach lined with big old salt cedar trees.
Upstairs, the master bedroom has the same large french window 'wall' like downstairs, delivering the fantastic view right to your bed.
To the right hand side of the house, facing the green field with the beach in the distance, is the other bedroom with two single beds. The two bedrooms are separated by their individual en-suite bathrooms granting privacy and ample space to all guests.
This contemporary villa is ideal for a couple or a family with up to 2 children who want to enjoy a beach holiday in the comfort of a modern home with pool where they can easily walk to the sandy beach or the cafés and tavernas with sea view. Maleme Beach is not far from Chania airport and an ideal base for excursions.
Kindly note that the villa has a non-smoking policy.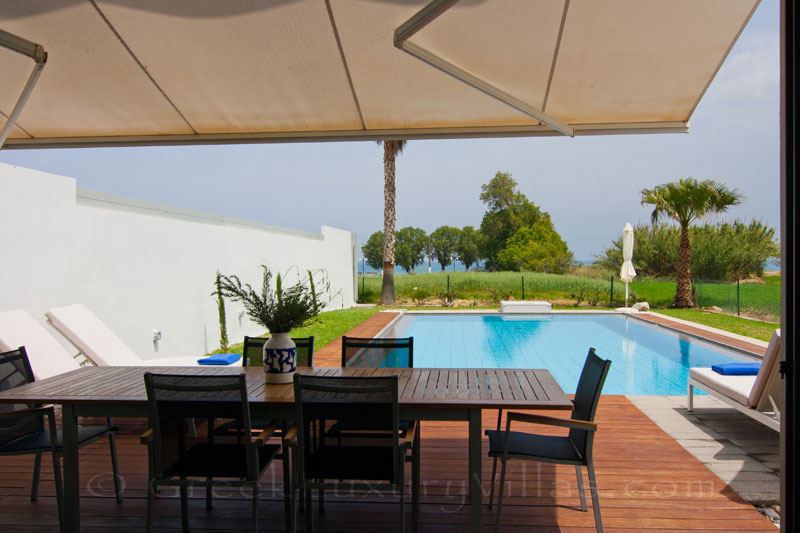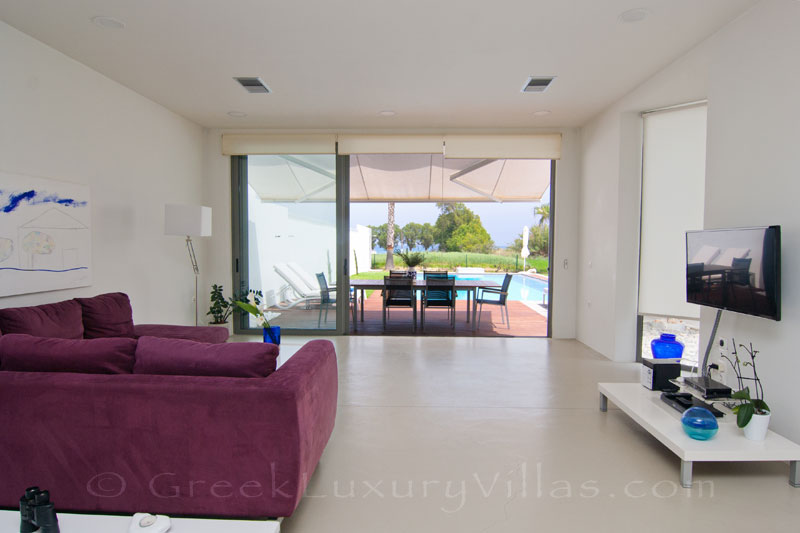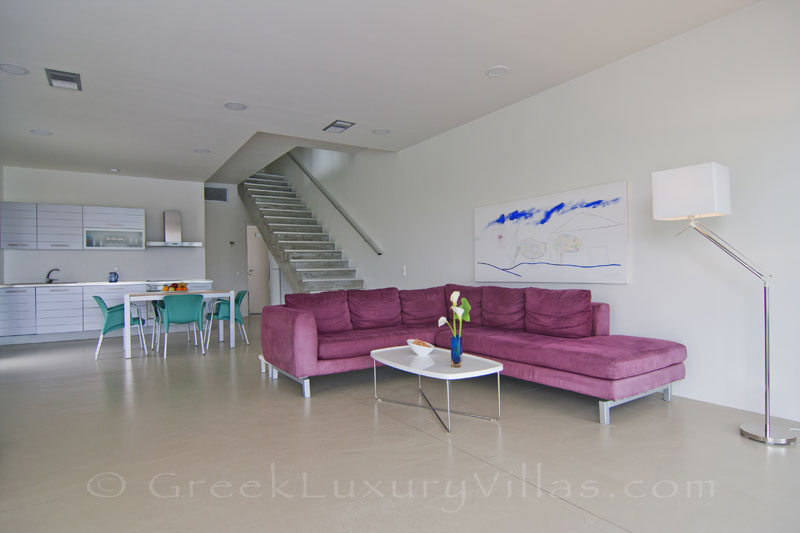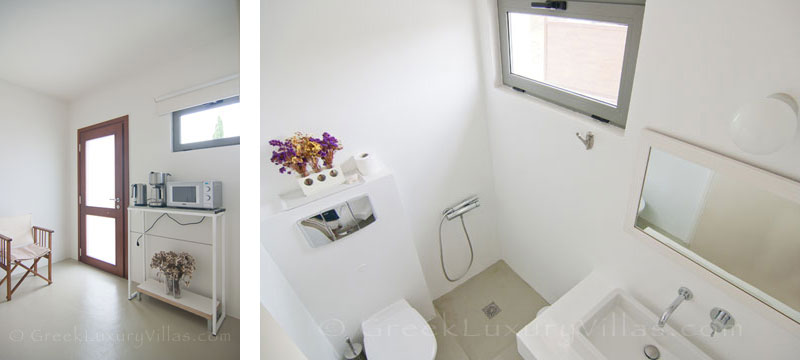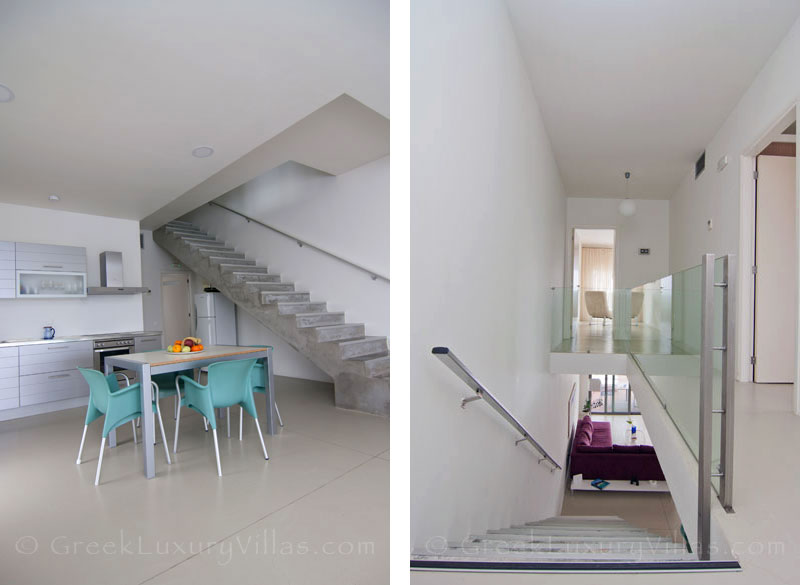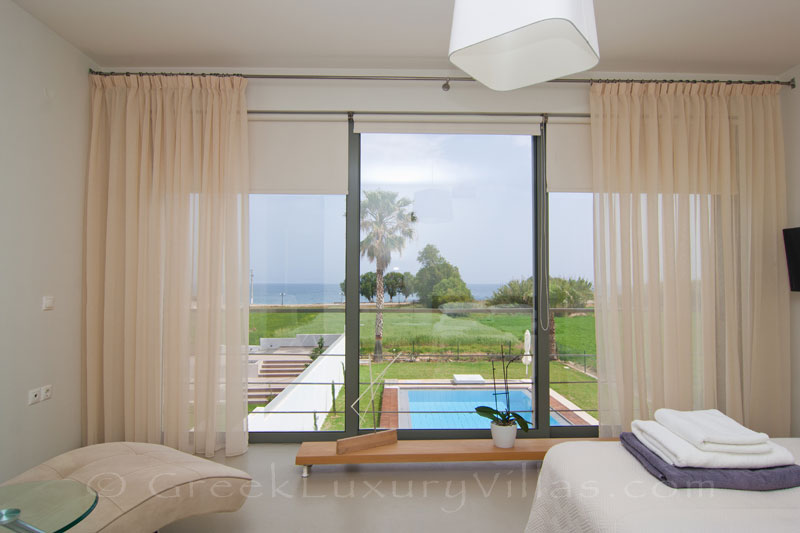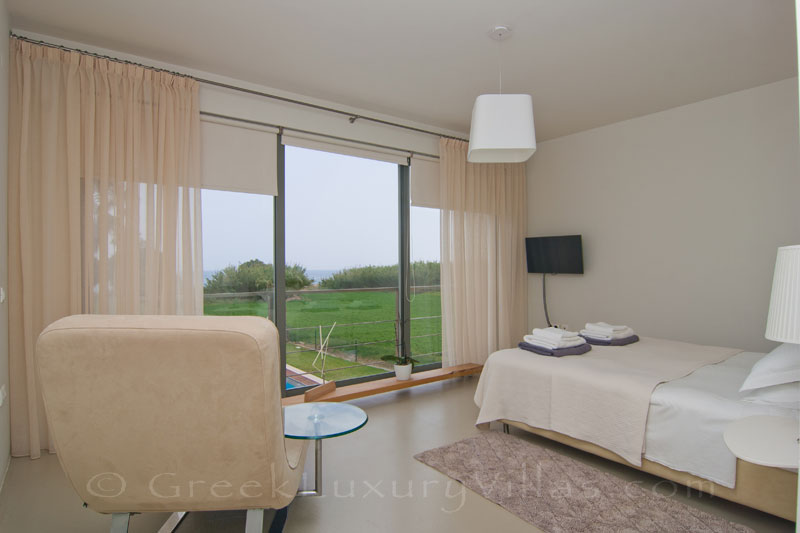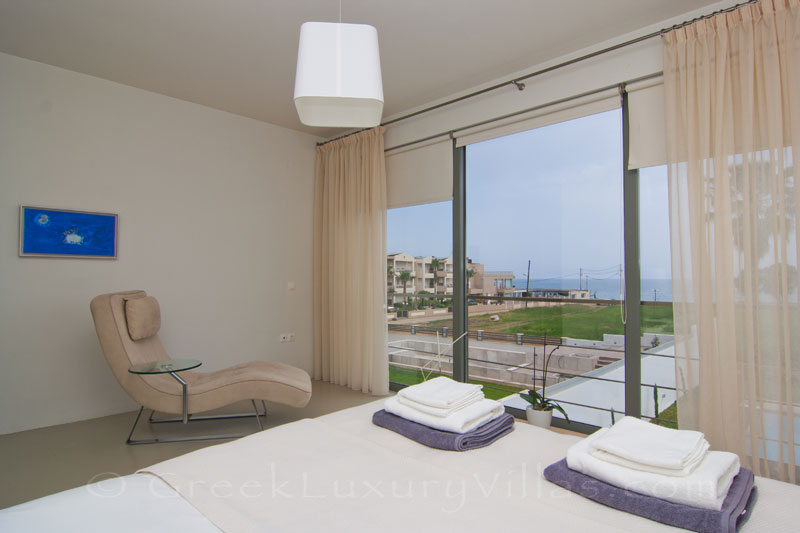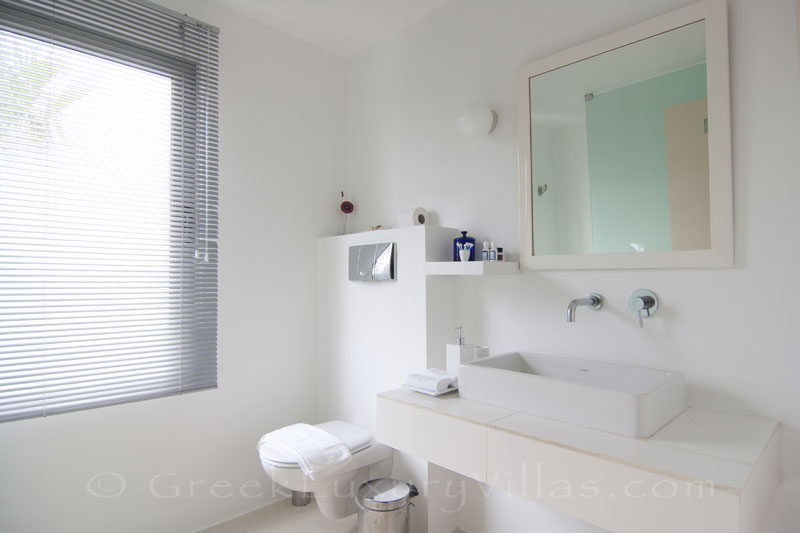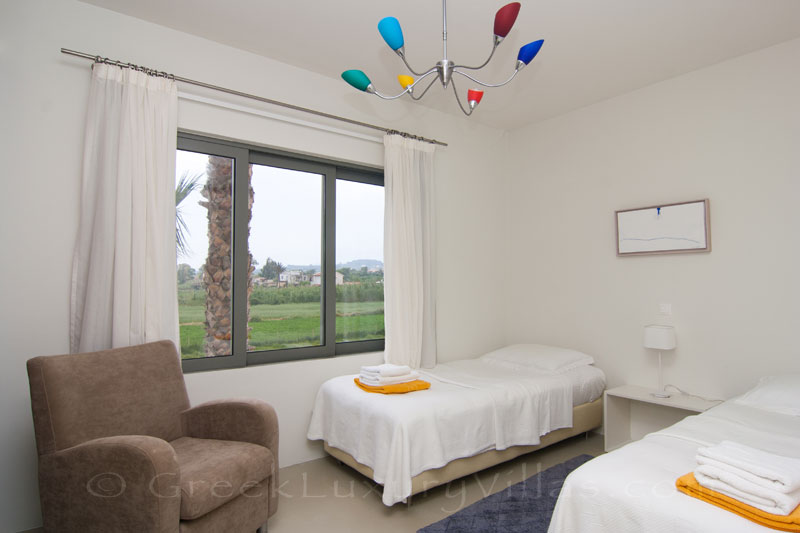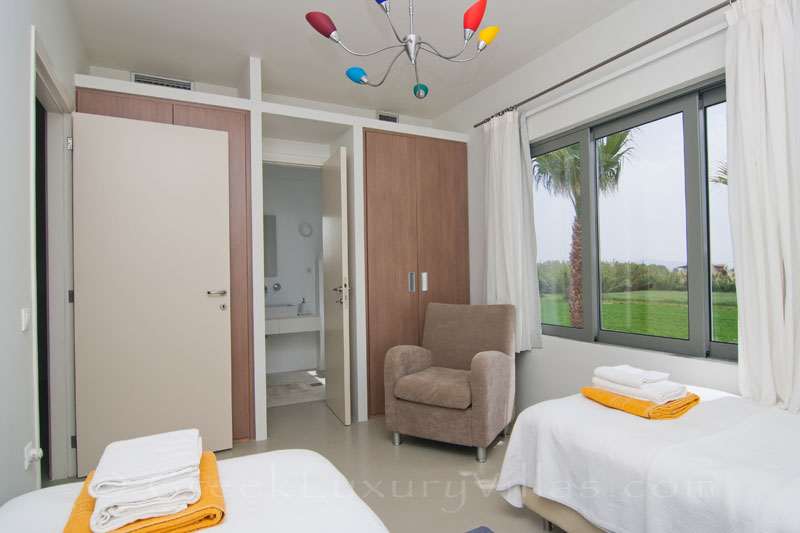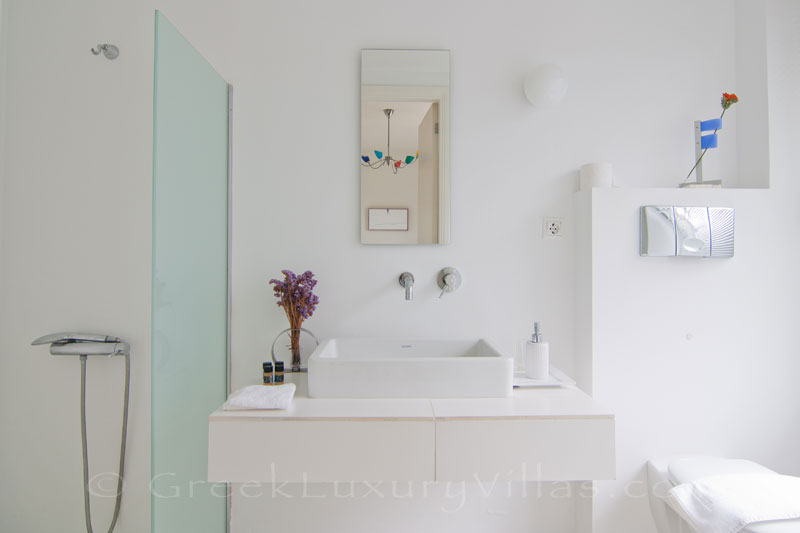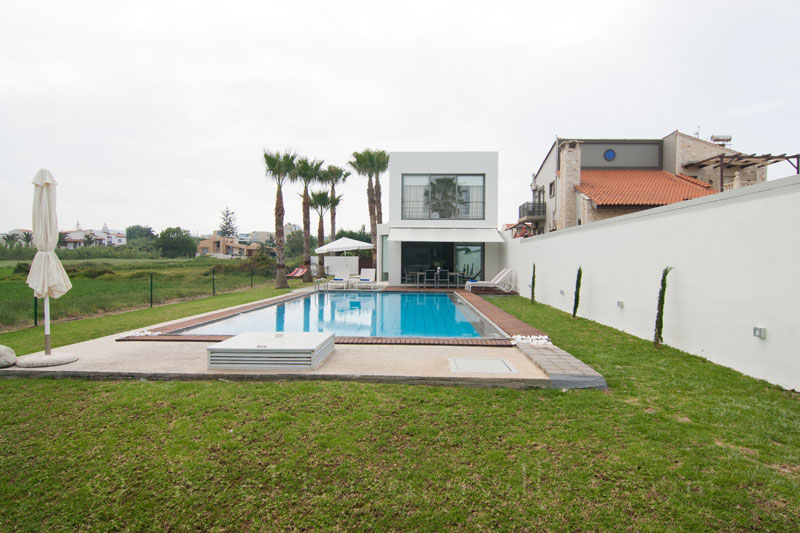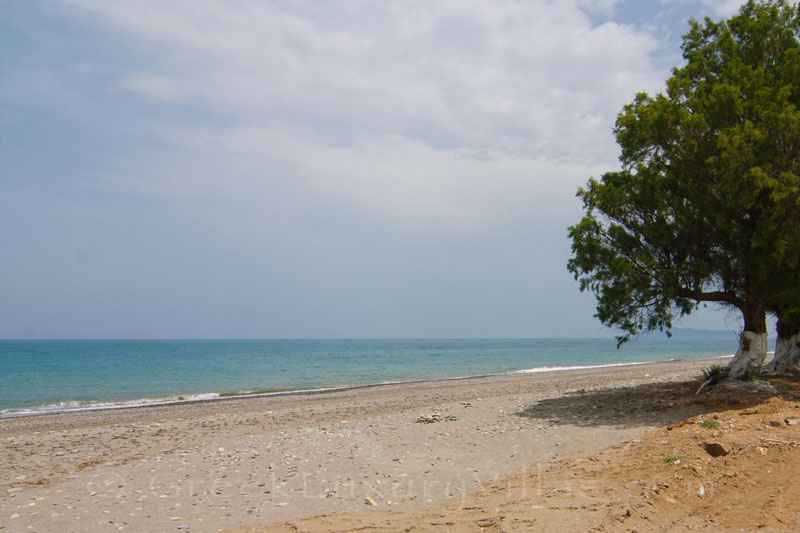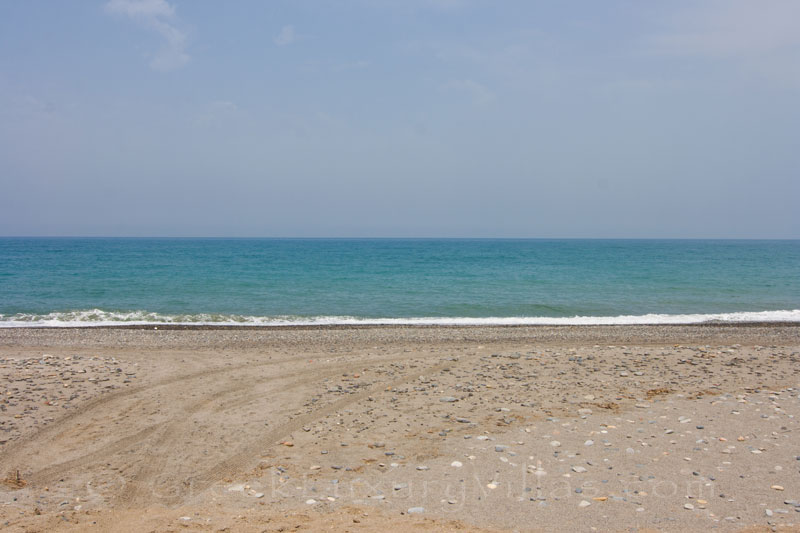 Villa Features
Private Pool, BBQ Area
Facilities
Washing Machine, Ironing Board, Sun Beds, Parking on Property
Kitchen Facilities
Electric Stove, Oven, Espresso Machine, Filter Coffee Machine, Briki (Greek Coffee Maker), Kettle, Toaster, Dishwasher, Food Processor (Multi)
Multimedia Facilities
TV, Sat-/Cable TV, DVD, CD-Player, WiFi-Internet
AirCon/Heating
AirCon in all rooms
Child Friendly
Baby Bed, High Chair, Enclosed Property (wall, fence)
Location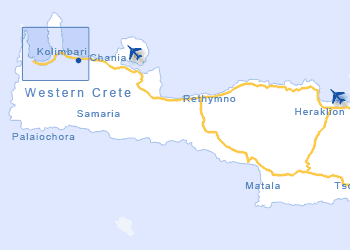 Included Services
Maid Service 2 x weekly, Change of Sheets 2 x weekly, Pool / Garden attendant, Welcome Basket
Services at Extra Charge
Babysitter / Childcare