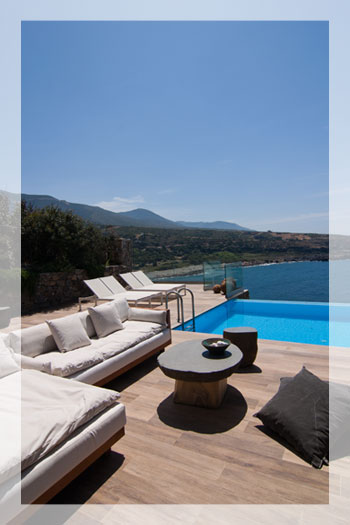 Prices for 2023 in Euro per week (Main Villa)
23 June - 24 Aug.
7.735 €
25 Aug. - 21 Sept.
5.670 €
22 Sept. - 19 Oct.
5.075 €
Guesthouse:
1 April – 31 May: Villa's weekly rate + 840 €
June, July, Aug.: Villa's weekly rate + 1.575 €
1 Sept. – 19 Oct.: Villa's weekly rate + 1.050 €
20 Oct. – 5 Nov.: Villa's weekly rate + 840 €
Pool Heating: 300 Euro per week
Booking Conditions: To confirm the booking, a deposit of 50% is required. The remaining 50% is due 8 weeks before arrival.
Change-over Day: From May 19 until October 19 on Fridays, otherwise flexible.
Damage Deposit: A damage deposit of 400 Euro is to be paid in cash upon arrival and will be refunded upon departure unless a damage is claimed by the villa management.
Payment Method: Bank transfer in Euro.
Cancellation Policy: Cancellation received more than 60 days prior to arrival date, 50% of the deposited rental amount.
Cancellation received 40 to 60 days prior to arrival date, 80% of the deposited rental amount.
Cancellation received 40 days or less prior to arrival date, 100% of the deposited rental amount.
For No-Show, 100% cancellation fee.

Greek National Tourism Organization License:
N1042K10000017100

Modern seafront villa overlooking the sea
This is the most modern of the 3 villas built in the rock overlooking the small beach of Livadia. Like the other villas, it has 3 bedrooms, but there is also a separate, very romantic guest house with one bedroom, so it can comfortably accommodate 8 people. The concept is clear: as much sea view as possible. Glass as building material wherever possible! Nevertheless, it creates a surprisingly warm and romantic atmosphere and the view is really so mind-blowing that it's worth every inch of glass.
So few walls give you the impression that you are sleeping and bathing outside and those who feel too much exposed can let down the blinds.
The facilities are of high quality and there is a variety of seating or reclining choices to enjoy the view according to the mood of the moment.
The master bedroom is slightly larger and even more impressive, but on the whole the bedrooms are all equivalent and thus the villa is also very suitable for several couples. For smaller children, the two lower bedrooms are likely to be particularly interesting, because they have a completely shallow children's pool which extends over the entire width of the lower floor directly in front of their glass-front. This feature contributes even more to the theme of the villa"directly on the water".
A few steps through the garden and you get to the guesthouse. If it had a kitchen, it would certainly go through as a self-catered holiday home for two, but it doesn't so you would have to eat in the main house. All 4 bedrooms have their own glass bathroom and great sea view from all sides.
Apart from the beach below the villa, there are several sandy beaches in the area such as Elafonissi, one of the most famous in Greece! There are a few very good tavernas in the area, but otherwise it is a quiet and untouched place. The villa is therefore ideal for people who like to enjoy the view of the sea in peace and want to soak up the sun.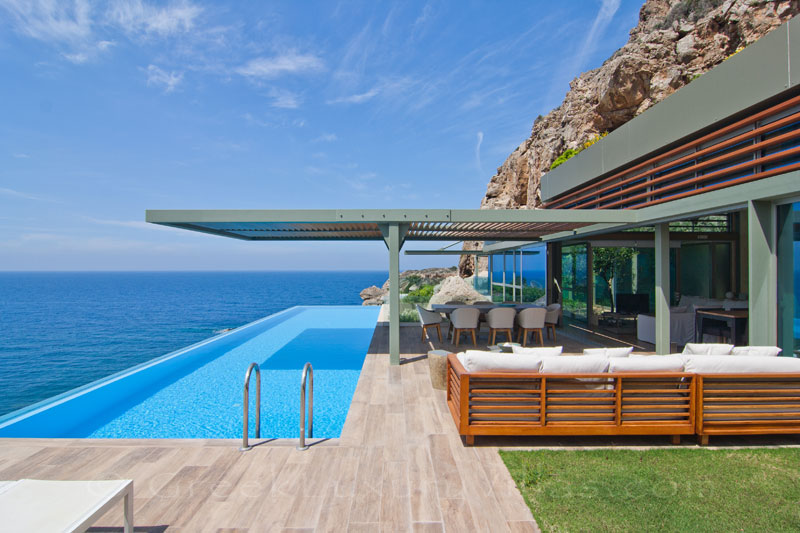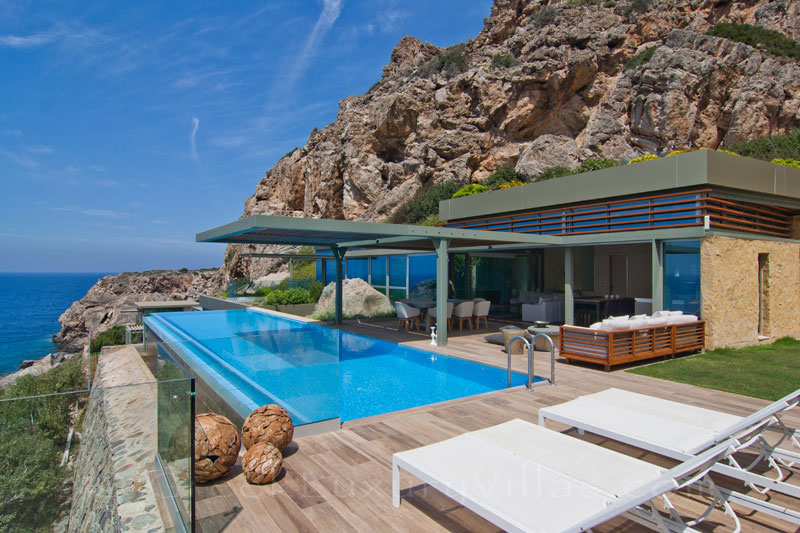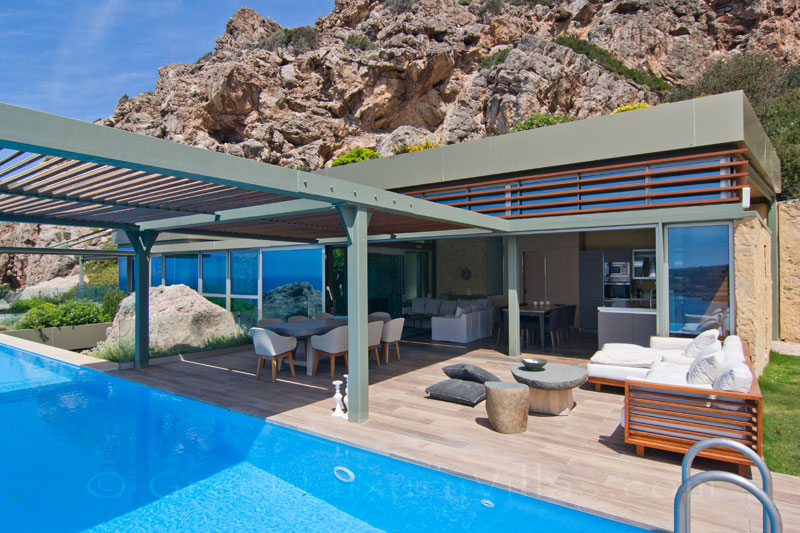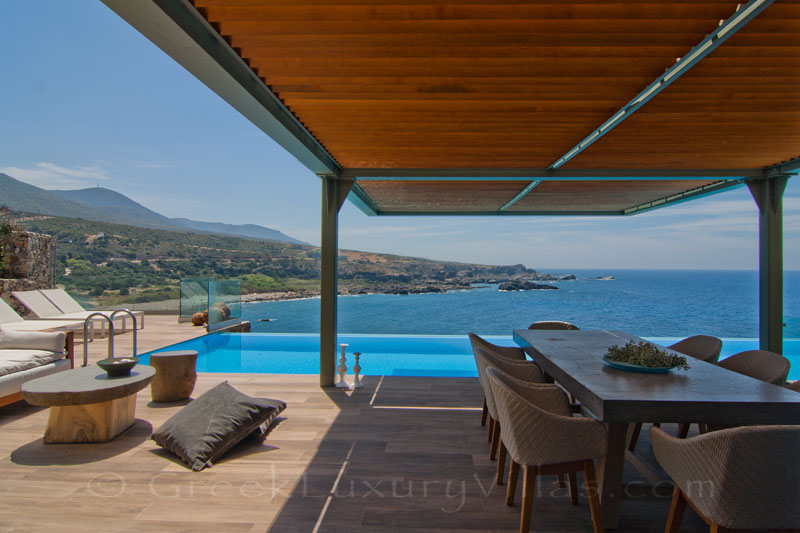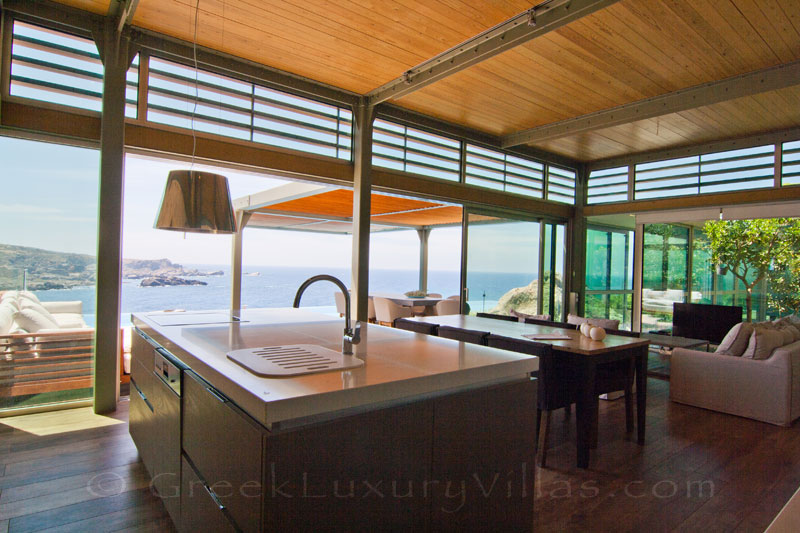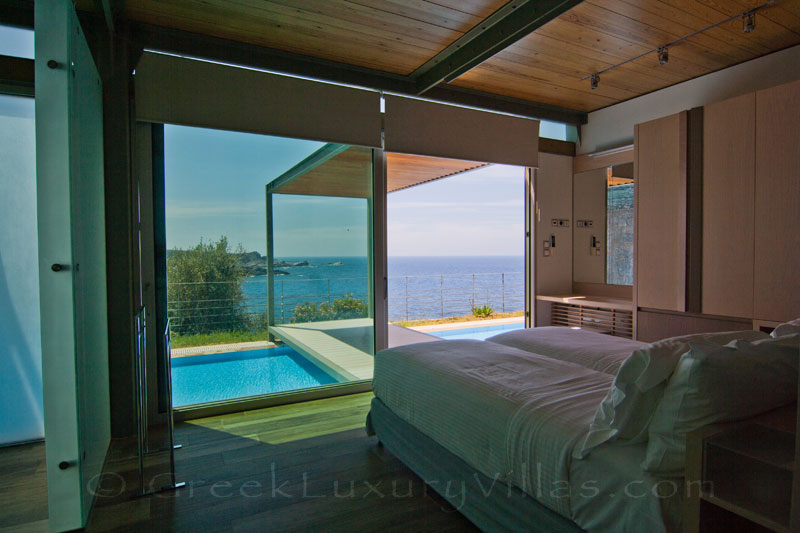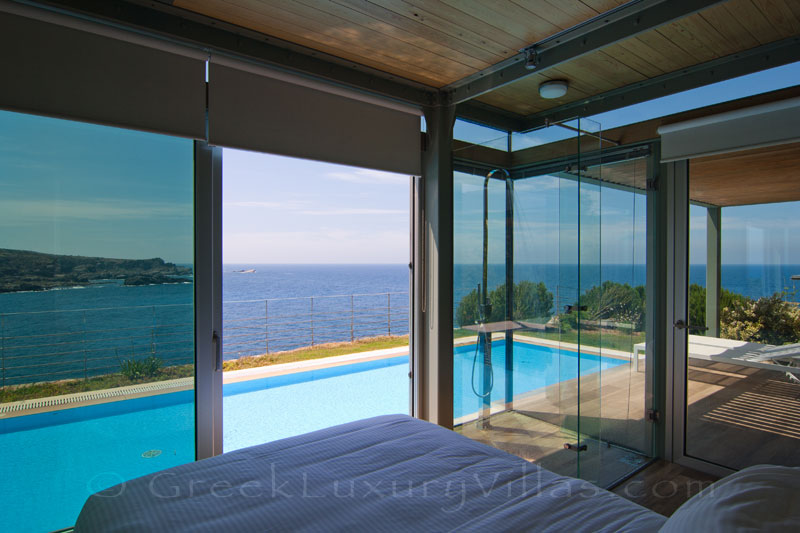 The Guest House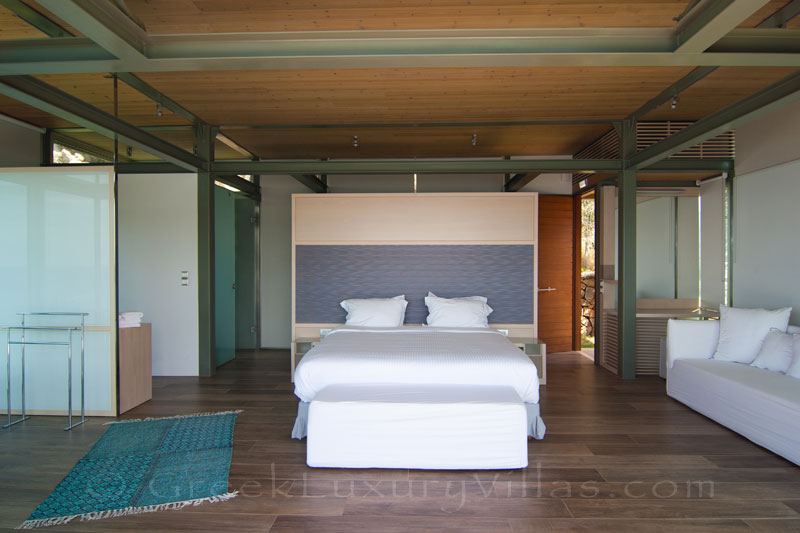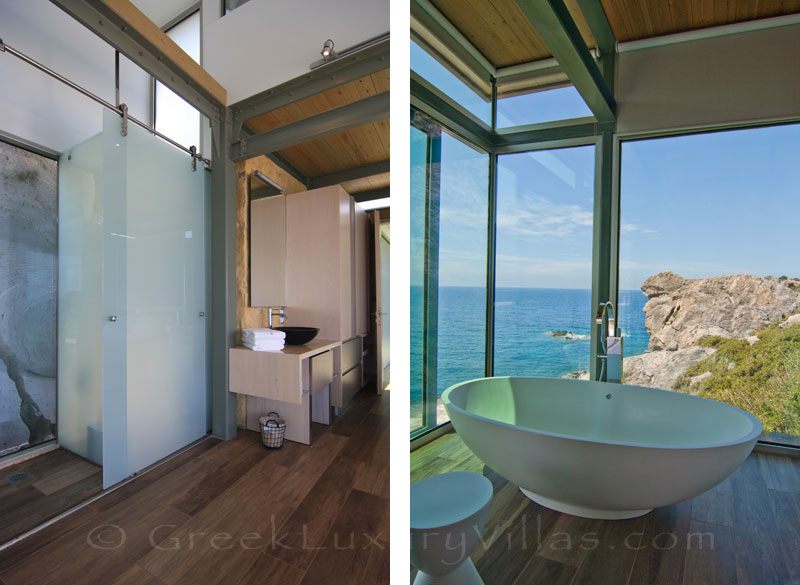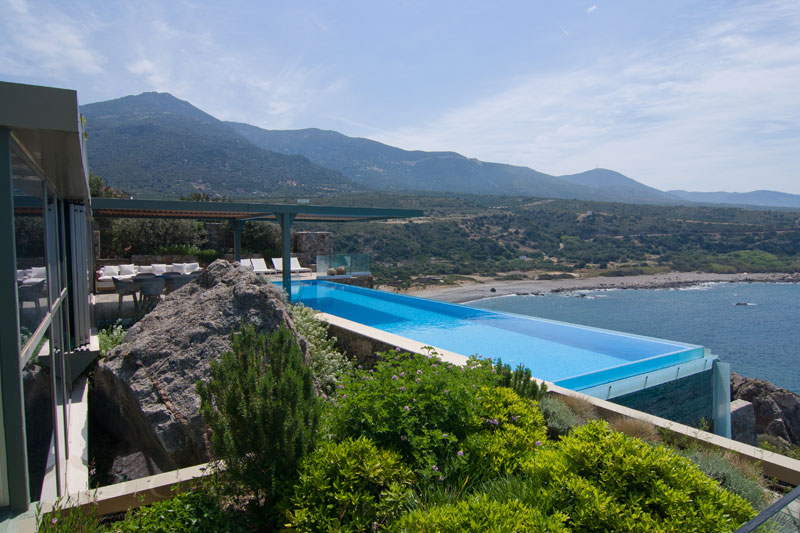 Villa Features
Private Pool, Outdoor Dining Area
Facilities
Washing Machine, Ironing Board, Sun Beds, Parking on Property, Hair Dryer
Kitchen Facilities
Electric Stove, Oven, Microwave, Nespresso Machine, Kettle, Toaster, Dishwasher, Gas BBQ
Multimedia Facilities
TV, Sat-/Cable TV, DVD, CD-Player, WiFi-Internet
AirCon/Heating
AirCon in all rooms, Central Heating
Child Friendly
Baby Bed, High Chair
Pet Friendly
Pets welcome (with prior notice)
Location
Included Services
Maid Service 3 x weekly, Change of Sheets 2 x weekly, Breakfast Service (prepared), Welcome Basket
Services at Extra Charge
Guided Tours, Babysitter / Childcare, Yacht/Boat Charter, Massage & Beauty Treatments, Yoga Coach, Scuba diving with private U/W guide/PADI